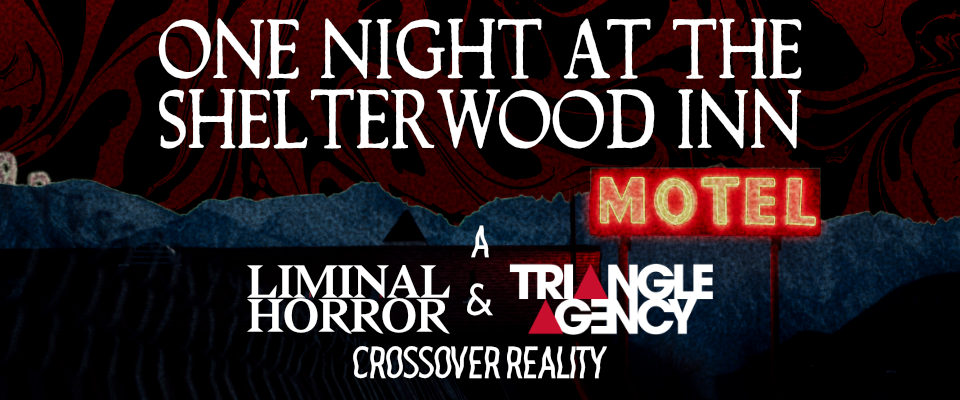 One Night at the Shelterwood Inn
A downloadable TTRPG Adventure
PHYSICAL COPIES COMING SOON!
Interrupting a lonely stretch of highway, nestled between towering pines, lies the Shelterwood Inn. To the weary traveler, its blazing neon sign promises a restful stay … but a deep darkness hangs beneath the glow. On this rainy night the fate of two parties will intertwine, and both will face that darkness: one to survive, the other to control.
One Night at the Shelterwood Inn is an official collaborative adventure from the creative teams behind Liminal Horror and Triangle Agency, playable in both game systems. With Liminal Horror, take the role of unfortunate souls stranded in a lonely hotel with something sinister hiding beneath the surface. With Triangle Agency, take the role of Field Agents straddling the line between containing a paranormal phenomenon and maintaining a cover.
It also includes pre-gens for LIMINAL HORROR using the NPCs from the Triangle Agency portion of the adventure. There is even an updated framing to help Facilitators set up the scenario.
Touchstones:
Bad Times at the El Royale (2018) - Drew Goddard
Night of Blood (1987) - Jim Bambra
Twin Peaks (1990-1991, 2017) - Mark Frost & David Lynch
Misery (1987) - Stephen King
Mexican Gothic (2020) - Silvia Moreno-Garcia
The Team
Writing: Josh Domanski, Goblin Archives, & Sean Ireland
Editing: Caleb Zane Huett
Layout & Design: Josh Domanski
Illustrations: Joshua Clark
See the Liminal Horror Side in Action
See the Triangle Agency Side in Action
Purchase
In order to download this TTRPG Adventure you must purchase it at or above the minimum price of $7.50 USD. You will get access to the following files:
One Night_Singles_v1.0_060423.pdf
10 MB
One Night_Spreads_v1.0_060423.pdf
One Night Liminal Horror Pre gens.pdf
1 MB
One_Night_Pre-Gens_Triangle_Agency.zip
2 MB