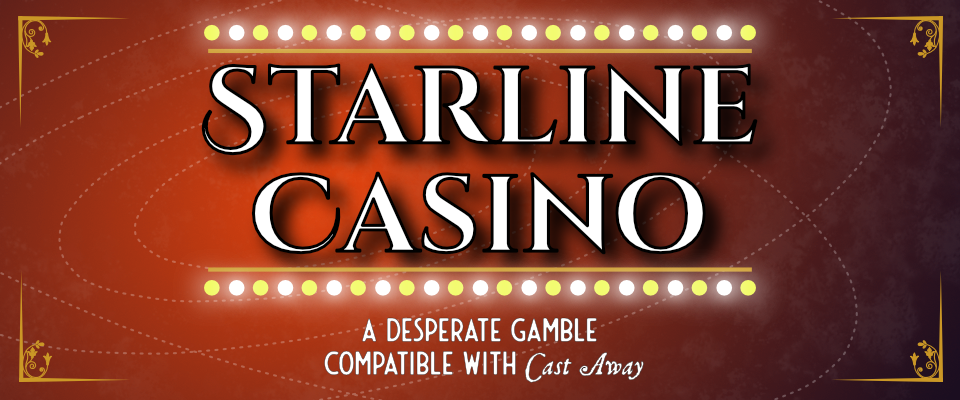 Starline Casino
The galaxy's most awarded resort destination! Out at the edge of settled space, you'll experience galaxy-class gaming, fine dining, a lavish hotel, and so much more! We offer uncompromising hospitality and luxurious experiences to meet all budgets. Our commitment to ensuring the best possible getaways for our guests never wavers!
While the solar flare was entirely unexpected, don't let this temporary inconvenience dampen your spirits! For your safety, please stay clear of radioactive areas. Our automated staff is also experiences temporary malfunctions and will be unable to process requests at this time. We'll be sure to restore full functionality and life support to all sections of the resort as soon as possible!

♠♦♠♦♠♦

Starline Casino is a pamphlet adventure compatible with Cast Away. Will your party of unfortunate souls trapped aboard a partially destroyed space casino survive the disaster that befell them?
♠♦♠♦♠♦

Starline Casino is an independent production by Josh Domanski and is not affiliated with the Afterthought Committee.
Download
Click download now to get access to the following files:
CA_Starline Casino_v1.0_052221.pdf
3 MB
CA_Starline Casino_B&W_v1.0_052221.pdf
1 MB