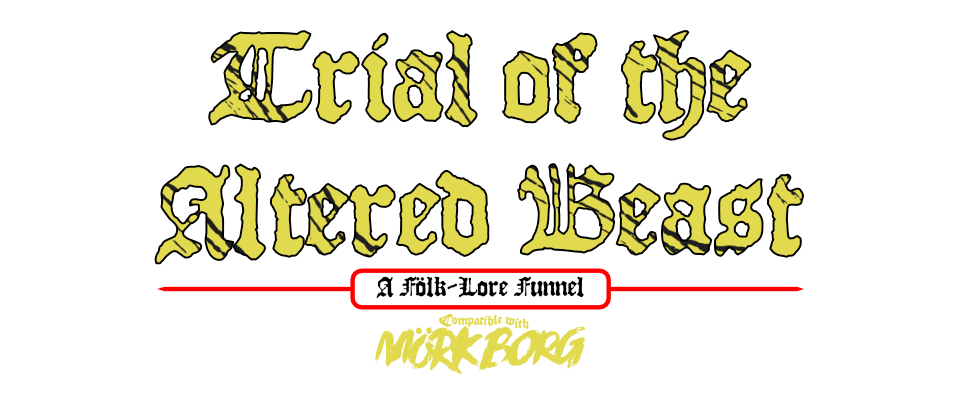 Trial of the Altered Beast: A Fölk-Lore Funnel
The Altered Beast is dying, slowly succumbing to the passage of time. While their story is set to end, there is a way they can yet live on. Through merging minds with a willing subject, the altered lineage can continue, but only if the subject is worthy. Only if they survive the Trial of the Altered Beast.
///\\\
Trial of the Altered Beast is an adventure for use with MÖRK BORG. Included within this short zine are the following:
A funnel adventure framework: throw your parties through the provided challenges or mix and match your favorite Fölk-Lore creatures and devastating hazards.
Five new enemy types.
A Patron to either grant your parties with power or unleash great violence upon them.
A new character class to "reward" a player for making it through the Trials alive.
///\\\
Special thanks to Perplexing Ruins for providing assistance and some of the art within.
///\\\
Trial of the Altered Beast is an independent production by Josh Domanski and is not affiliated with Ockult Örtmästare Games or Stockholm Kartell. It is published under the MÖRK BORG Third Party License.
MÖRK BORG is copyright Ockult Örtmästare Games and Stockholm Kartell.
Download
Click download now to get access to the following files:
Altered Beast_Spreads_v1.0_032021.pdf
15 MB
Altered Beast_Singles_v1.0_032021.pdf
15 MB
Altered Beast_Printer Friendly_v1.0_032021.pdf
10 MB
AB_Player Map_v1.0_032021.jpg
980 kB
The Convergent_Class_v1.0_032021.pdf
2 MB